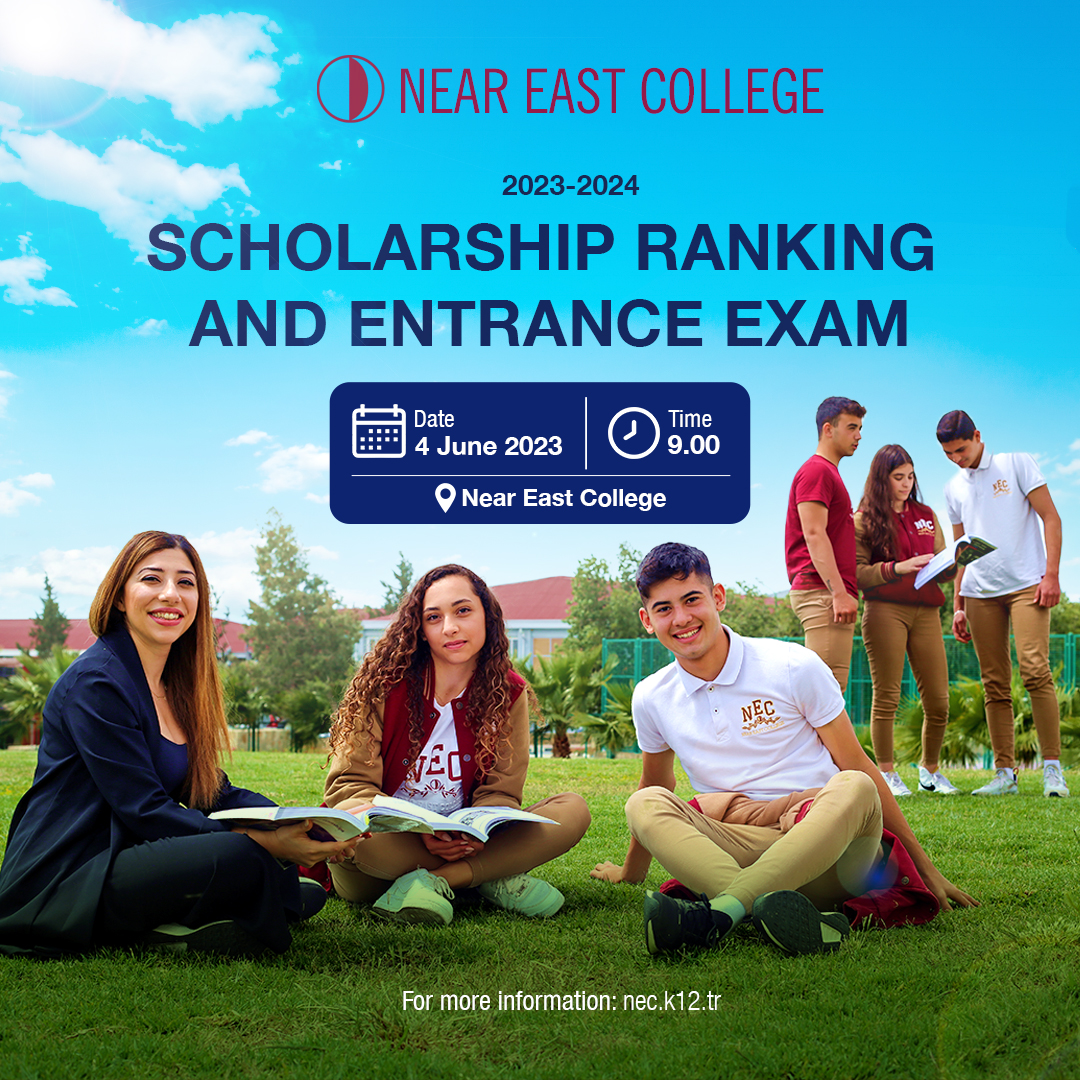 We believe that each child can create his/her own future.
We are looking forward to welcoming our new students, with whom we will share social and cultural opportunities strengthened by our experienced academic staff in a safe educational environment.
We aim to support the education our students receive , reward their success and raise future generations who are aware of the Near East culture .
All students are welcome to participate in our annual scholarship and entrance examination.
INFORMATION
Our exam topics are based on the KGS 2 syllabus prepared by the Ministry of Education.
The exam will consist of two sessions. The first session is composed of 27 Mathematics, 10 Science and 9 Social Studies questions and the second session contains 27 Turkish and 27 English questions. Both sessions combined make a total of 100 questions.
You can find past examination papers at the following links:
Exam Questions: Nicosia Near East College
Exam Questions: Near East Yenibogazici College
Exam Questions: Dr. Suat Günsel Kyrenia College
REGISTRATION
Registrations can be made either online or face to face.
FACE TO FACE applications will be carried out by the school secretaries at Near East College Middle
School in Nicosia, Near East Yenibogazici College in Famagusta and Dr. Suat Günsel Kyrenia College
Exam Registrations end on Friday, 2 June at 16:00
The examination entrance fee of 200 TL must be paid to any branch of Near East Bank (the account number is given below)
LEFKOŞA VE YENİBOĞAZİÇİ EĞİTİM VAKFI HESAP NO 600005848
DR. SUAT GÜNSEL GİRNE EĞİTİM VAKFI HESABI HESAP NO 600006998
The bank receipt stating the payment and one photo (passport-sized) which will be attached to the Exam Entrance Card are also required during registration.
While registering online, we ask you to write only the numbers and not the letters of the receipt number
written on the bank receipt. Your Exam Entrance Card will be e-mailed to you approximately one hour after your registration is completed. If a problem occurs while registering or in the case of failing to receive the entrance card ,please contact the school administration.
AFTER THE EXAM
After the scholarship and entrance examination, students will be awarded scholarships in the following 4 categories.
Dr. Suat I. Günsel Scholarship
Full Education Scholarship
Half Education Scholarship
Quarter Education Scholarship
DETAILS
You are welcome to visit our school between 08:30- 16:00 (Monday-Friday)and meet with us in person to learn more about the educational system and visions provided as well as the activities organized, sports and academic successes achieved by our college students. If preferred, you may call (0392) 6802090 for the Near East College (Nicosia), 0548 851 65 11 for Dr Suat Gunsel Kyrenia College and 0548 829 93 38 for Near East Yenibogazici College for any information you may require.
You can also access further information about our schools on our school websites.