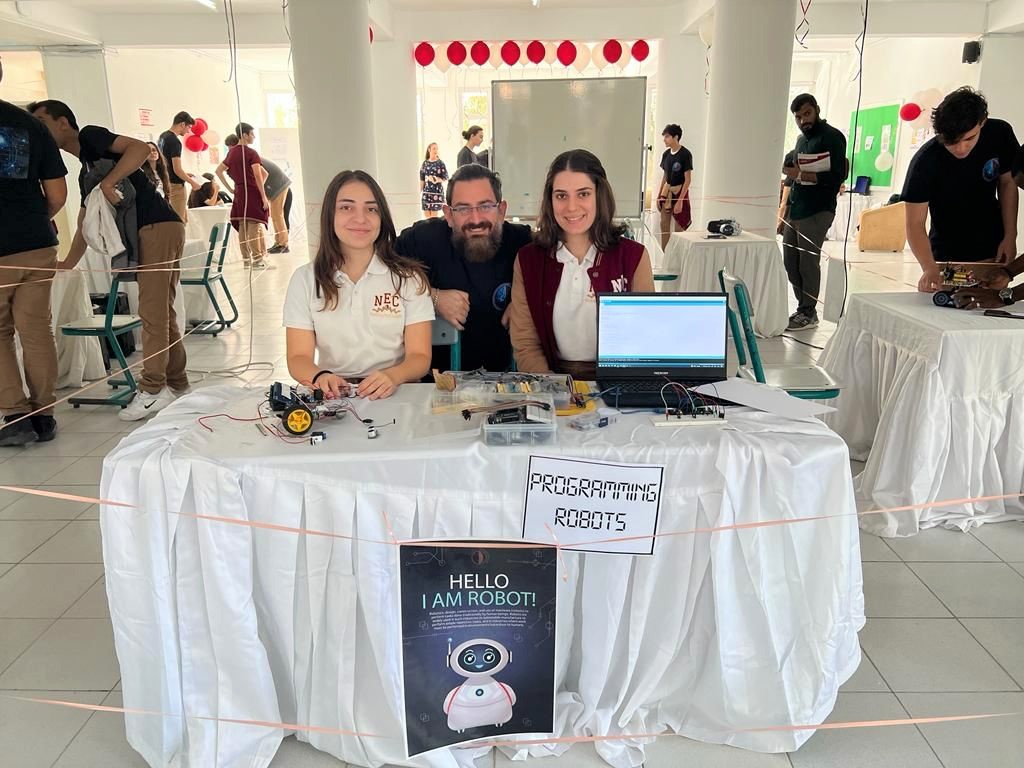 Robotics and coding have become the most important fields that will shape the future of our age with the developing technology. Near East College students, who were introduced to the magical world of robotics and coding, shared the robots and games they designed with their friends on the "Coding & Technology" day. In the event, the robots designed by the students and the cars they moved by giving commands with tablets attracted great attention.
A day full of technology!
9th, 10th, 11th, and 12th-year students attended the "Coding & Technology" event organized by Near East College Computer Department students. Students presented various materials and games they designed with their own codes to all college students and teachers.
At the stands they set up in the Near East College YKS building, the snake game coded by the students, the calculators they developed themselves, the barcode creation applications and the games played using virtual reality glasses attracted great attention. The "T-shirt design related to technology" competition also revealed colorful images. The students who ranked in the design competition were presented their certificates by the school principal Asım İdris.
Mert Mertkaya: "Our students created their own technology products by taking the advantage of all the opportunities provided by our school."
Near East College Head of Computer Department Mert Mertkaya said that in this period when technology is being used in all areas of life, they are pleased with the intense interest in the "Coding & Technology" day, where they aim to increase students' awareness and competencies. Mertkaya said, "Our students created their own technology products by taking advantage of all the opportunities provided by our school. We achieved our goal by highlighting the codes that shape and regulate our lives and by using technology efficiently. While our students are producing something in this branch, which has a very high future, such as coding, the excitement in their eyes and the happiness they experience prove to us that they can choose this field as a profession. We will continue to be by their side in every study they will conduct to make our lives easier and fun."