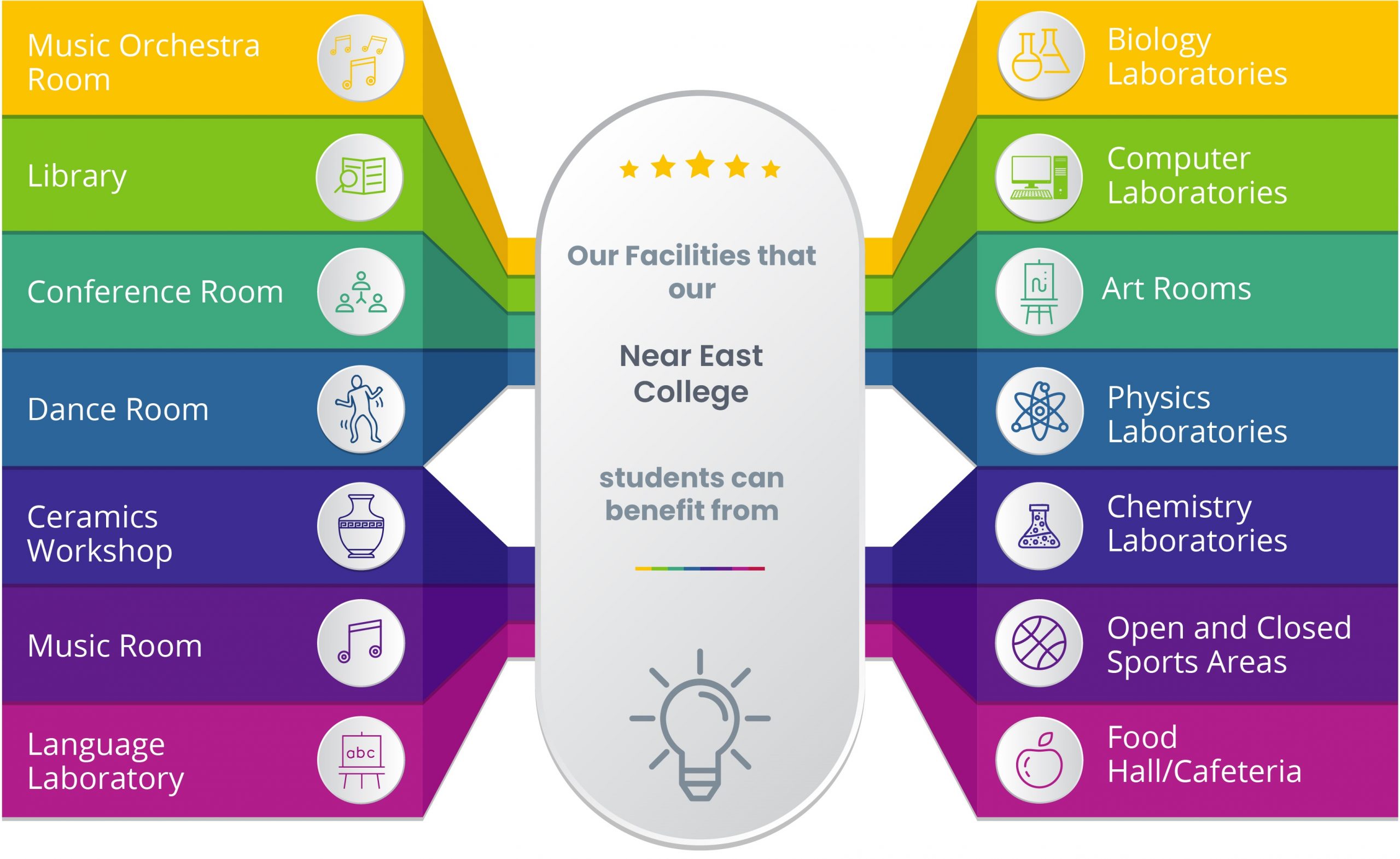 Near East College is located on one of the biggest education campuses of the Turkish Republic of Northern Cyprus with its 15,000 m² indoor area, built on an open area of 40,000 m². The college campus houses a middle school building with a capacity of 700 students and a high school building with a capacity of 1000 students.
In addition, there are indoor sports complexes, dining hall, outdoor playgrounds and sports fields, 6 science laboratories with a capacity of 30 people, 5 fully equipped computer laboratories, an auditorium for 130 people, club rooms, libraries and exam halls with a capacity of 100 and 30 students.
Apple TV, projectors and internet connection are available in all classrooms and laboratories, and there are smart boards in electronic classrooms.
Laboratories
All kinds of instruments and materials required to conduct experiments or practical work are available in our computer, biology, physics, chemistry, and science laboratories which are all approved by Pearson Edexcel and Cambridge International exam platforms. Our high-tech equipped labs provide the students with the opportunity to develop projects on many subjects and win awards on these subjects in the competitions in which they participate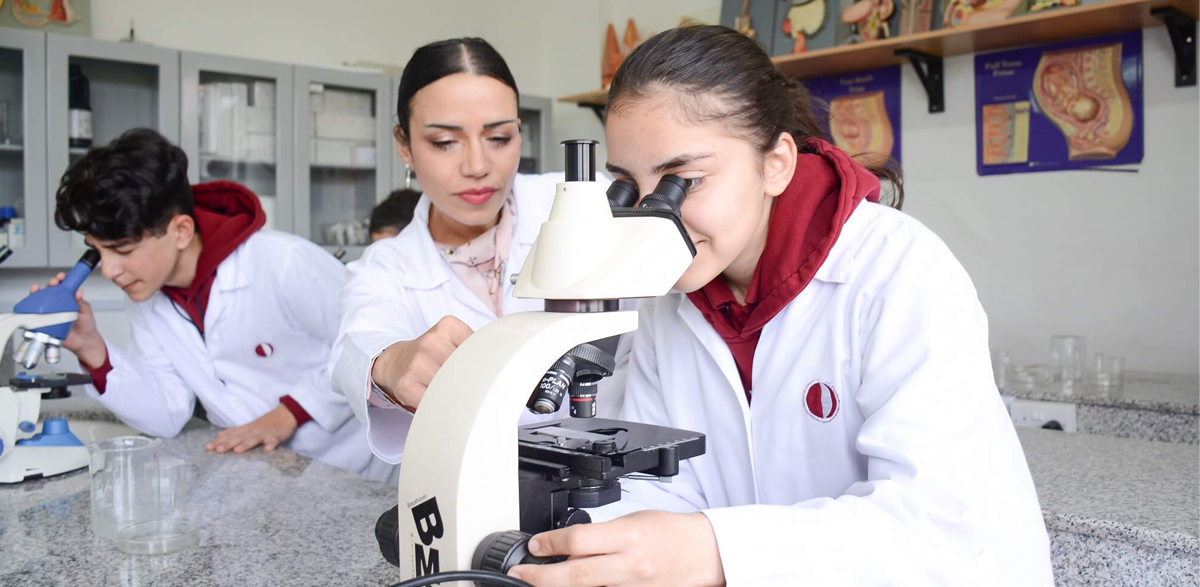 The Library
In our era where the information world is growing at a dazzling speed that is not easy to keep up with, it is of great importance to distinguish which information is correct and reliable. The Near East College Library aims to promote literacy, disseminate useful information and be a light for students for raising awareness in understanding the validity and reliability of the information accessed. The library continues to extend the opportunities available to the students in respect of their learning and recreational needs. The library provides a supportive environment that enables all students to reach their true potential. In this regard, the library constitutes a central resource which provides educational content relevant to subjects and educational-training materials that support the educational objectives specified in the education curriculum. In the developing technology and information society, the library, which aims to encourage, maintain and develop a lively enquiring mind, and a curiosity and interest in reading and learning, ensures that all students can access the information they require quickly and effectively. Since a library is an essential resource in the development of lifelong learning skills, we aim to make the library an integral part of their daily lives by providing access to national and international resources, supporting the students to generate different views and thoughts, developing individual reading habits, and raising library awareness by teaching them about the crucial role of the library, its services and resources in personal development. In this context, in addition to the library within the college, our students have the opportunity to access 2.3 million printed resources and 650 million digital resources available in the Grand Library of Near East University.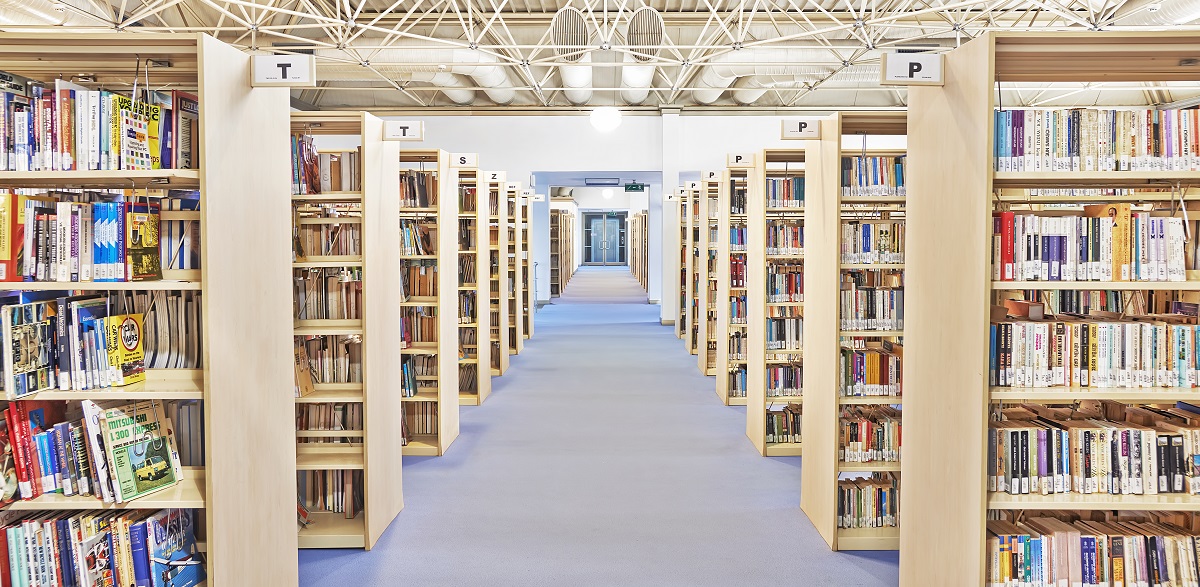 Dance and Music Studio
While Near East College students have the opportunity to do sports in the dance studio, they can also practice gymnastics and folk dances. Preparations required for participating in music competitions and concerts are carried out in the music studio.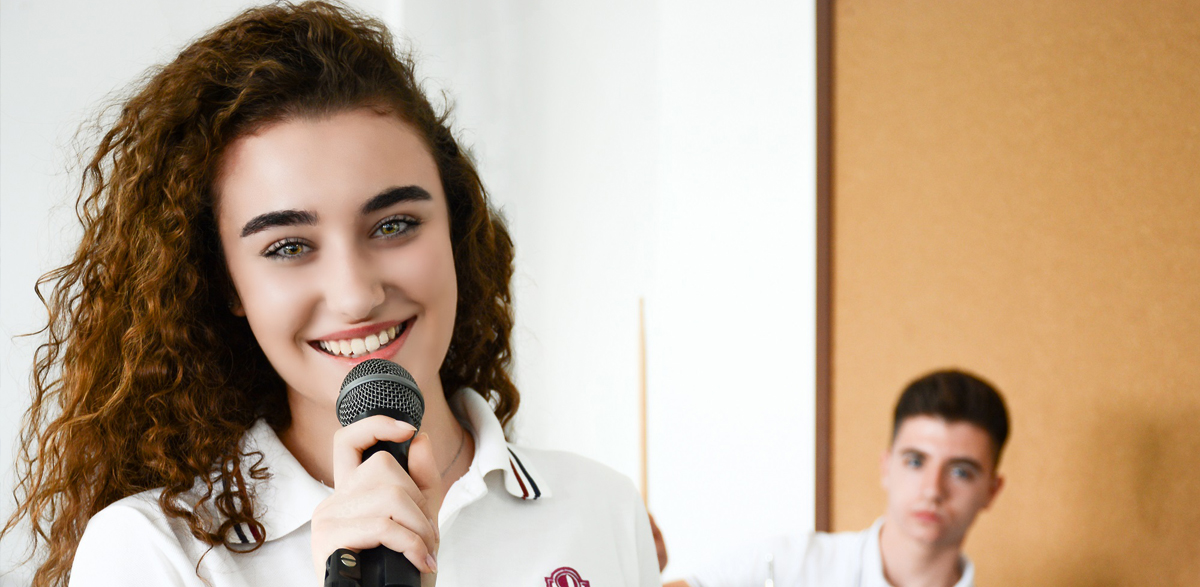 Art Workshops (Painting, Ceramics, Home Economics, Technical Drawing, Calligraphy)
Near East College, which ensures students' academic development through quality education programs, also attaches great importance to developing the mental and cognitive skills as well as the cultural, artistic and social aspects of each student. We provide all educational and social, cultural, artistic opportunities required for raising our students as well-rounded, critical thinking, problem-solving, creative and productive, self-confident and healthy individuals who are beneficial to the society. We placed special focus on carrying out the artistic and social activities in line with the curriculum. Our college, which supports all kind of activities that will help reveal and develop the talents of our students, offers art workshops where students have the opportunity to discover their artistic aspects and create meaningful and personal works. We provide our students with the opportunity to exhibit the works that they produce in painting, ceramics, home economics, technical drawing, and calligraphy workshops.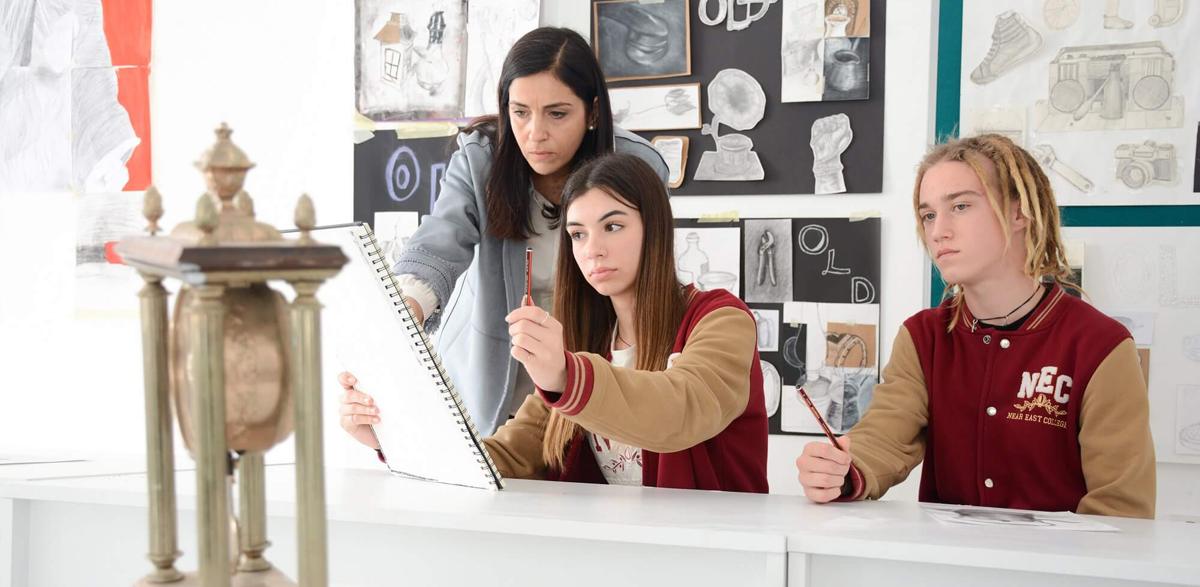 Sport Halls
Near East College has 2 indoor sports complexes, outdoor playgrounds and sports fields. The sports complex provides the opportunity to play team games such as basketball, volleyball, handball, football, badminton, and includes cultural and sports activities and it is a centre that not only offers the opportunity to conduct cultural and sports activities but also to practice all subjects concerning the physical education program.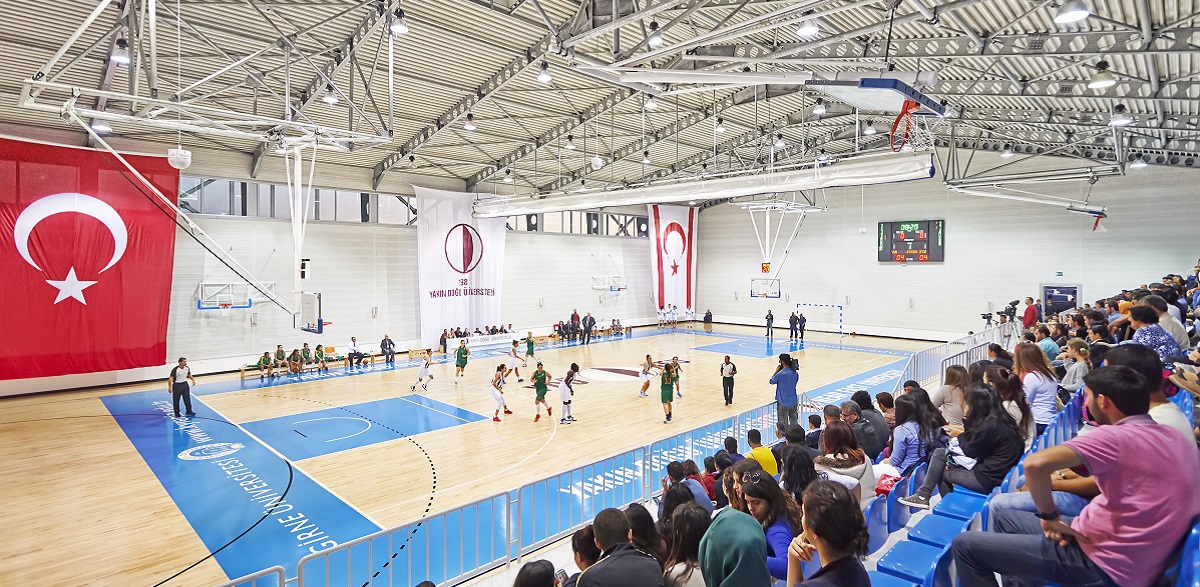 The Near East University Hospital
Consisting of three main interconnected blocks located on a 55,000 square meters area on the Near East University Campus, Near East University Hospital opened its doors in 2010 as a private hospital. Near East University hospital, with its 36 high-tech equipped service departments is a new generation hospital offering unmatched services beyond national and European standards.
Consisting of three main interconnected blocks with three, four and nine floors, the hospital building houses 209 single patient rooms including 22 VIP rooms, 8 operating theatres, 30 Intensive Care Units, and 17 Neonatal Intensive Care Units. The transportation between floors is provided with elevators and stairs.
With its labs, where all medical tests can be performed, the Radiology Centre with the most advanced imaging devices for early and accurate diagnosis, Nuclear Medicine and Radiotherapy Centres with the latest technological devices required for ensuring the most accurate and fastest diagnosis and treatment for cancer cases, and 84 fully digitalized doctor examination rooms, Near East University Hospital provides polyclinic services to patients at the highest level and in an environment of trust.
Near East College puts the health and wellbeing of its students and staff at the forefront. In this context, for us, it is one of the important factors to minimize the health issues that may occur in the school and provide the students and staff with high quality healthcare services whenever needed.
As Near East College, we are working hard to ensure the personal, academic and social development of our children. Our children's academic and social development makes sense if they maintain their health and sustain a healthy life.
In order to maintain the health of our students, who are your most valuable assets, as Near East College, we have brought into service an "Emergency Health Insurance" in collaboration with Near East University Hospital and Near East Health Insurance.
The "Emergency Health Insurance" covers all our students and does not bring any additional fee or financial burden to the parents. This insurance provides our students with the opportunity to experience the joy of the privilege of being a member of Near East family. Regardless whether it is during school hours or outside school hours, the health expenses of our students on the health issues covered by the insurance are met by the "Emergency Health Insurance". "Emergency Health Insurance" covers important health expenses up to 10,000 TL as well as emergency and specified outpatient treatments of our students. In addition, in health issues not covered by the insurance, all our students have the privilege of benefiting from the facilities of our hospital with a 30% discount.
Health history of each student enrolling in the programs offered by our schools are recorded every year, and the weight-height of each student is measured and health screenings are carried out. The results of the screenings are shared with the parents. In certain periods or in possible outbreaks affecting our country, contact meetings are held to deliver or share information with staff and students. Health education is carried out in cooperation with the teachers, taking into account the age groups of the students.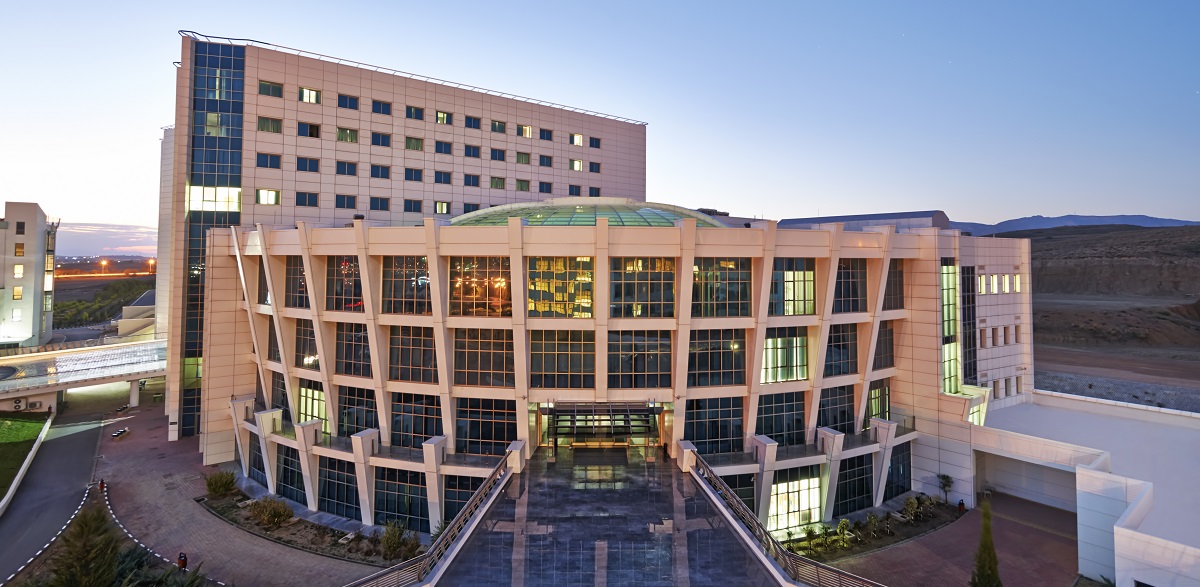 The Indoor Olympic Swimming Pool
The pool provides swimming and water sports services under the guidance of 19 experienced swimming teachers from 8.00 in the morning to 20.00 in the evening. The Olympic Indoor offers swimming courses addressing all age groups of the society. Water sports courses including swimming, diving, water polo, and tower diving are also available.
Olympic Swimming Pool;
Olympic Indoor Swimming Pool;
The ground floor, which houses the Olympic Swimming Pool has an area of 2,700 square meters and a height of 16 meters.
It is an Olympic sized pool and the dimensions are 50 x 21 meters
Its volume is 3,100 tons.
It is equipped with a central heating system.
It has a seating capacity for 1000 spectators.
It has a jumping tower with four diving boards with heights of 3, 5, 7, and 10 meters.
It is equipped with modern interior fittings.
With its male and female locker rooms, male and female showers and WCs, and the cafeteria, it is the first and only Olympic Indoor Swimming Pool of the island.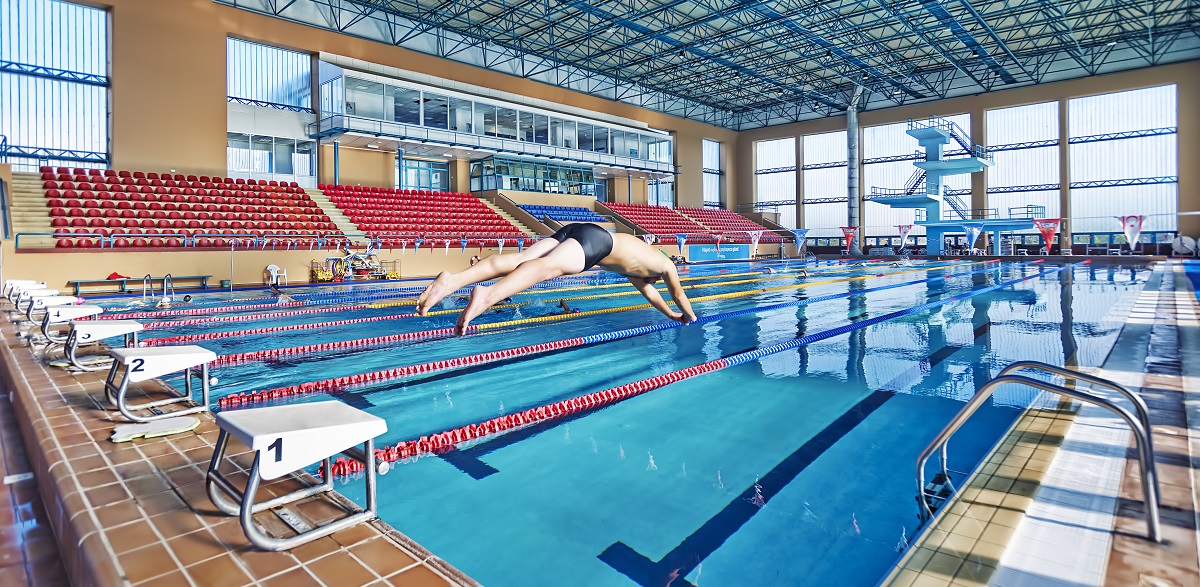 Health and Conditioning Centre
In the Health and Conditioning Centre, with the support of the "Health Unit", a conscious training environment is provided with trainers who are experts in sports and physical education, under the supervision of a doctor.
In the Performance Laboratory:
Personalized physical adequacy tests,
Nutrition Programs,
Cardiovascular training programs.
are provided.
Opportunities Available
Determining and improving the general health and physical fitness of individuals
Determining the level, guiding and tracking performance athletes and sports teams
Physical fitness tests
Exercises under the control of a medical doctor
Branch-specific endurance, strength, speed, flexibility, reaction, etc. tests under the control of sports scientists
Organizing individual and team training programs according to needs
Endurance and performance control and tracking tests for sports teams
Condition Hall
Tailored and individualized by doctors and expert trainers, computer aided programs are implemented for:
Slimming,
Weight gain,
Keeping fit,
Bodybuilding,
Considering their individual abilities and potentials, students are supported to achieve their goals in the most effective way in the light of the most up-to-date and accurate information.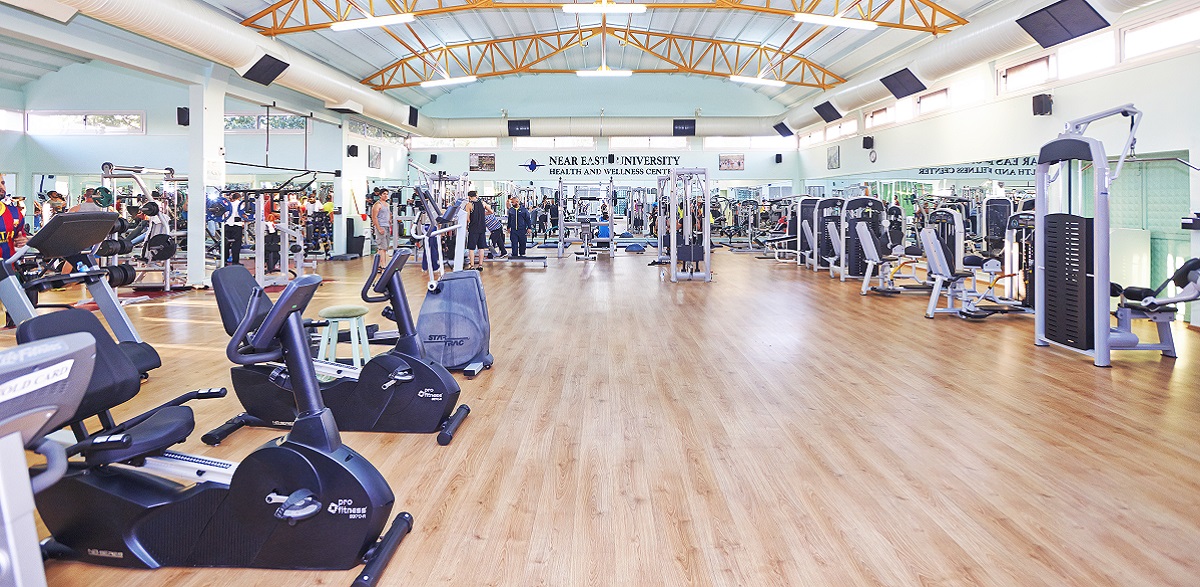 Sports Tower
Having been equipped with high-end equipment produced with the world's latest technologies, the Sports Tower with more than a hundred trainers and personnel specialized in their fields offers conscious, well-designed and programmed sporting activities, weight management, strength and resistance training, and other body-fitness exercises required for physical and mental wellbeing. The Sports Tower, which provides people of all age with the opportunity to engage in sporting events and other activities in a healthy and contemporary environment, is equipped with instruments including new sporting and body-fitness trends such as InBody, Cryotherapy, Ozone sauna, Body Shape treadmill and Vacu Activ Bodyshape.
Situated on a 3600 square meters area, the Near East University Sports Tower, which houses nine floors, not only offers opportunities to do sports in many branches but also special fitness and dance trainings for all age groups. It also provides athletic nutrition services along with dietetic counselling and appropriate services for women and children at sections that are specific to them. Each floor is designed to address specific activities; group and strength and fitness exercise sessions such as TRX, yoga, Pilates, total body exercises, Kangoo Jumps, aerobic, step, spinning, functional balance, Xbody, kettlebell and zumba, martial arts such as boxing, Brazilian jiu jitsu, Kick Boxing, Shotokan Karate and Judo are offered on relevant floors that are equipped with the most advanced cardio devices.
As an inclusive centre, the Sports Tower offers programs that are designed and tailored to enable people with special needs to do sport under the guidance of expert trainers.
Accreditation
Accreditation is of great importance as a guarantee of the quality of education offered to students. In this context, Near East College is proud of being a Cambridge International School as a Pearson Edexcel and Cambridge International exam centre.
An objective assessment is required to determine how well the school or program meets the criteria for accreditation. Our school is accredited as a result of very strict and periodic audits carried out every year to assess the programmatic elements as institutional governance, teaching staff, curricula, infrastructure and learning resources, the way that the exams are held, and the overall quality of education.
Why Near East College
Near East College is a brand in education with its dynamic staff, contemporary infrastructure, deep-rooted institutional culture and quality education as well as its accomplishments achieved so far.  As Near East College, we promote student achievement and preparation for global competitiveness by offering a student-centred educational approach which incorporates the personal, academic and social aspirations of students. To this end, we encourage our students to discover their full potentials themselves and raise them as well-rounded individuals capable of meeting the requirements of the current era.
In the light of this vision, we have designed our education model under the supervision of a committee of distinguished educators by examining different education models from around the world and taking into account our own local needs.
Our aim is to sustain the learning environment where teachers, students and parents collaborate to achieve excellence. This collaborative environment not only provides students with the opportunity to meet their curiosities, interests and needs but also enables them to stand on their own feet, to predict and offer solutions for problems, and to put their dreams about the future into practice through logical decisions. In this regard, the primary goal is to ensure the students' health and happiness in this collaborative learning environment which accommodates the academic, personal and social development and their unique abilities.
Experience Private School Privilege with Us…
When you step into the Near East College, you will encounter an extraordinary system offering you:
A well-equipped educational environment
Motivating, dynamic and experienced teaching staff,
Classrooms and laboratories equipped with the latest technology,
Teaching projects extending beyond the four walls of the classroom into the society
Comprehensive IGCSE and GCE curricula of exam platforms such as Pearson Edexcel and Cambridge International used in the British Education System,
Comprehensive curricula prepared in accordance with National Education programs and Higher Education Institutions Examinations (YKS)
Information system (NECSIS) that can evaluate the theoretical performance of students in the exams held in line with the curricula implemented,
Opportunity to test yourselves with GCE and YKS mock exams, which are frequently held together with GCE and YKS supplementary courses
Opportunity to learn German/French as a second foreign language and to participate in international exams,
In addition to our school's own exams, assessment and evaluation of your performance with exams from Turkey, Europe, America and England
A diploma that is valid and recognized all over the world,
Along with enriched and well-rounded numerical, verbal and artistic programs, opportunity to benefit from all facilities located on the campus,
Opportunity to visit and explore the history, geography, cultural values and social facilities of the country with the convenience of transportation, which is always available,
The privilege of participating in travel programs that will allow you to get to know different cultures and countries,
Comprehensive sports courses,
Psychological counselling and guidance whenever you need it,
Opportunity to apply for admission to universities across the world through the Overseas Counselling Centre,
Opportunities provided by being a Pearson Edexcel exam centre,
Privileges of being a Cambridge International school and exam centre,
Opportunity to participate in international programs carried out in different countries around the world,
Opportunity to benefit from the "Emergency Health Insurance" for health issues encountered during school hours or outside school hours. Your health expenses regarding the issues covered by the insurance are met by the "Emergency Health Insurance, without imposing an additional fee to the parents,
Opportunity to benefit from uniform, books, door-to-door transportation services, lunch, and "Emergency Health Insurance" without paying an additional fee other than the school fee.